5 Day driver CPC training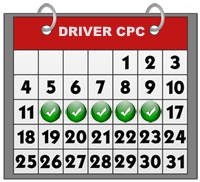 We have week courses running usually one week a month and some Saturdays

Saturday dates are now being added to continue the DriverCPC training through in to 2019.
Not started your Periodic training, don't panic!
Our 5 day Driver CPC Training course could be the answer. We run one and sometimes 5 day courses during a single month, please check our
Training Calendar
to see the next available dates
We are now running each day with different modules to make sure you get the most out of your week, booking a whole week in one block will work out cheaper, doing this now means you will get your DQC to enable you to drive legally

You can complete the whole 5 days or choose the days you wish to attend to suit your needs.

The Driver CPC modules are usually as follows during the weekly courses unless otherwise stated
Monday
1A & 1B
1A

Rules & Regulations

- EU Drivers Hours, Tachographs
1B

Safety & Security Essentials

- driver safety, traffic accident procedures, security & crime prevention
Tuesday
2C & 2A
2C

Know your vehicle

- Staying legal, fuels and lubricants, maintenance and safety equipment
2A

Loading & Unloading

- Weights and load distribution, loading equipment, load restraint systems

Wednesday
3A & 3B
3A

Driving Forward

- Fuel economy, driving safely, highway code and personal safety vehicle checks
3B

Deliving the Goods

- Health & Safety points covering rual and urban driving, Route planning, customer service
Thursday
2B & 1C
2B

Delivery Safety

- Health & Safety at work, vehicle movements in yard / terminals, hazards & precautions, manual handling, PPE
1C

Driver Welfare

- General conditions that affect the health, stress, night time driving and tiredness, diet and dehydration
Friday
6A
6A

Vulnerable Road Users

- Road user facts and figures regarding incidents and dangers with cyclists, motor cyclists, horse riders, pedestrians and car users.
Training starts at 8.00 with paperwork registration at 7.45, training finishes after 16.00

We can offer a 5 day booking for training at a reduced rate, please call 01379 854486 for more details